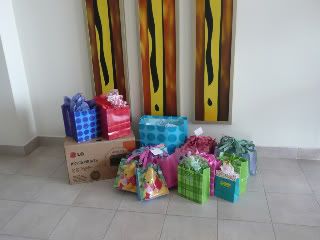 The gifts are packed and we are all anxiously waiting for the morning. Can you believe that we brought all this stuff to Vietnam with us? Actually, we bought the microwave here, but the rest was in one big suitcase which is now available for all the things we want to bring home.

We treated ourselves to a fancy dinner at the Rex Hotel tonight on the Rooftop Garden. I say fancy because it's the first time we've paid over 100,000d for an entree (about $5). I have to admit that I cheated tonight. They had fettucini carbonera on the menu and I went for it (only because Brian wanted some). It was great. I hear from Bob that the gin & tonic's were also well done. Afterwards we walked to Fannys for some exquisite ice cream. Thankfully there is also a Fannys in Hanoi so we can sample it frequently. They have a special on the 1st Friday of the month where its all you can eat for 75,000d. Judy is planning to take advantage of it.

Well, off to bed so we can get up bright and early and get out to Dong Nai. The Giving & Receiving is scheduled for 9:30am and after that we are officially a family!

Wendi

PS - I did figure out the pictures today but obviously did not catch up with posting. We are having too much fun!